It might be an old cliché, but along with your wedding dress and maybe a layer of your cake, your photos are going to be the way you, your family and your friends remember the day for a very long time to come.
Whether you enjoy them in print, or online, they should be of the very highest quality. And you should make sure you get exactly what you want.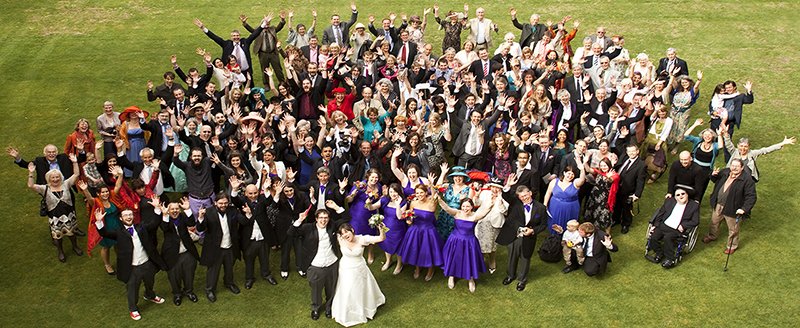 So what should you look for?
1. Someone you're comfortable with. Personality is really important. A great photographer should be able to be everywhere and nowhere at once. To be able to blend in with your wedding, but also there to take creative control when it counts. You want a photographer who quickly understands your style, and the style of your wedding, and who will work with you. If your gut says no, listen to your gut.
2. One who gives you what you want – and then adds a bit more. You should sit down with a potential photographer and go through how the day will look through their eyes. What are their suggestions for picking the right times for formal and informal shots? Are there points at which there'll be a great opportunity for reportage? Do they have any advice on handling the taking of pictures during the ceremony? A good photographer will take on your brief and enrich it from their own experiences.
3. No nasty surprises. This is pretty important too. The way we use and share images, in the era of Facebook etc., has changed enormously in recent years. Photographers who try and "upsell" you yet more prints, albums and musical slideshows should ring a few warning bells. They might look cheap to start with, but it soon mounts up. Work out how you really want your photos, and make sure you're meeting your needs, not the photographer's. If that means delivery of all edited images so you can print and upload them, ask for that. It's the 21st century, and that's how we use images now.
4. Technical excellence. Crisp, sharp images. Composition that tells a story. An eye for the shots that other photographers don't see. Look for a balance of classical images, exciting reportage, and even quirky humour. People photography offers ample opportunities for all of these. When you review their portfolio, look for images that could genuinely be called "memorable". That's how you want your memories to be. An editorial eye matters, too. If there's some retouching you'd like doing, make sure this can be done well. You shouldn't have to sift through 20 nearly-identical images of the same group to find the best one. A good photographer will do this, and many near-duplicate images can be a sign of gaps in judgement or confidence.
5. Flexibility. Things change. From a sudden rainstorm, to the vicar who suddenly changes his mind about where pictures can be taken. You might swap the order of the dancing and speeches. You want a photographer who will take all this in their stride without fuss, making sure you still get everything you need.
6. Speed. Will you see your pictures in three hours, or in three weeks? These days, a good photographer should be able to have something ready for you to share (as and when you're ready to) by the end of the day. That's right. Same day. Not a week later. And the best will complete everything quickly for you. They have to – there's more work ahead.
7. And finally, STYLE. There is some room for discussion on this. Your photographer, if they're good, will have a signature style. But discuss what you have in mind. The right photographer will take this on board and craft something that works for you, be it formality, photojournalism, black and white or strong, vibrant colour.